Iran to screen Farha film about the occupation of Palestine
Farha is a Jordanian historical film about a Palestinian girl's coming-of-age experience during the Nakba, the 1948 displacement of Palestinians from their homeland.
Tehran (qodsna)- The Iran-based Society in Defense of Palestinian Nation (SDPN) will release film Farah, directed by Hassiba Freiha and Kenton Oxley, on Monday, December 12, 2022.
Simultaneous with international screening the film Farah, this film will be released for Palestinian activists in SDPN office in the Tehran.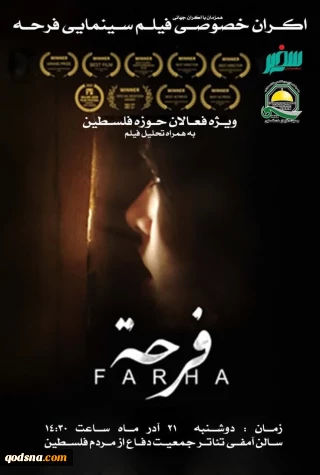 Farha is a 14 year old girl who lives in a small village in Palestine, 1948. Girls her age are traditionally married off or spoken for yet Farha wants to continue her education despite traditions and the restrictions of schooling in her village for boys only.
Inseparable from her best friend Farida, who lives in the city but who spends weekends in the village, Farha dreams of joining her at a school in the city.
Life in the village is threatened and aggressively changed by the looming danger. Just when Farha's father is finally convinced and Farha's dream is at last coming true, the danger comes closer to their village.
As violence escalates, Farha is brutally separated from Farida. Terrorized for his daughter's safety and fearing for her life, Farha's father locks her up in a concealed, small food storage space by the house, promising to return. But he never does. Over the course of the next few days, Farha undergoes a life-changing experience while buried in the tight dark space, her only connection to the outside world is a small hole in the wall and a few cracks in the wooden door.
Farha witnesses a lot of events, outside and inside the room, setting off her journey of transformation and forcing her to grow up and leave her childhood behind.
Since its world premiere at the Beirut International Women Film Festival earlier this year, Farah has received a range of international accolades. After it was selected for the New York-based Chelsea Film Festival, Farah won the festival's Special 10th Anniversary Award for Best Feature Film. Additionally, the film also won two awards at this year's Alexandria Mediterranean Film Festival, Egypt, under the Best Arabic Film and the Best Art Direction categories. Lebanese Film Festival Canada also awarded Farah its Best Feature Film Award (audience poll) for 2022.
---